About Central Australia
---
Weather
Central Australia is a region of contrasts with spectacular scenery and vibrant warm colours. Alice Springs has a population of around 28,000, and is an ideal spot to "get away from it all".
We have four seasons that are divided into summer, autumn, winter and spring.
The centre is full of diversity, in its natural forms, in the unique wildlife which thrives in the arid zone and in the culture of its people. We are confident that you will leave with many good memories of your stay and an appreciation of why we think this part of the world is so special!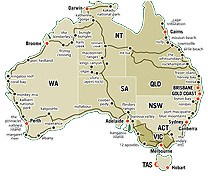 Distances
Adelaide to Alice Springs - 1530 kms (951 miles)
Melbourne to Alice Springs – 2255 kms (1401 miles)
Brisbane to Alice Springs – 2990 kms (1858 miles)
Sydney to Alice Springs – 2884 kms (1792 miles)
Maps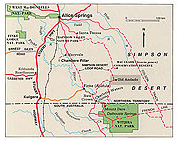 To download PDF document please click on the links below: